Recent Posts
1
« Last post by Purple44 on August 17, 2018, 11:59:38 PM »
I would try verifying your Wreckfest files: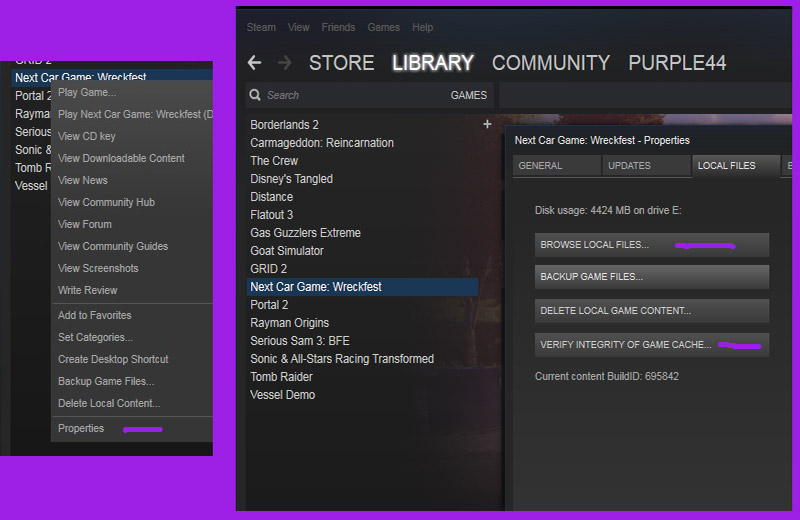 2
« Last post by Purple44 on August 17, 2018, 11:57:50 PM »
Test, you got any links?
3
C class is max 164 as i know.
I'm not an expert but as I saw in online, some guys are putting a bit of armor (or the max) on killer be so they loose performance but they tune up their car so killerbee is heavier and has more hp, result in better acceleration (I didn't check in game but logically it should be) but slower in corner and stronger.
Or you can maybe remove all armor so your car is lighter but has less hp, result in slower acceleration but faster in corner and weaker.
And I think in online, a killerbee with full armor is better against these crazy stupid driver comming at 150mph in a corner without braking just to crash you into the wall, thing which i don't find it very funny to do in race even if it's wreckfest (Well this is another problem and my own advice
) I love crash but not like this !
I have a question too, which car in C classe is the best between the killerbee and the killerbee S with 164pp?
4
Oh nice, so that mean the next update or hotfix is coming in 1 or 2 weeks
I'm not following them on discord and i'm not checking steam forum too, thx for info ! I know they have to focus on console release too, they can touch 2 or 3 times more players compared to pc (and more I hope) !
Gamescom, I forgot it !
5
« Last post by BloodBrother on August 17, 2018, 09:33:35 PM »
Hi,

I run Wreckfest for the first time since Junary 2018 & with my save of the early acces.

I can acces all my vehicles except my RoadSlayer GT : when i hit the car in the vehicles list, i have an error:

Default Visual Part Does not Exist :data\vehicle\06_american\art\spoiler_rear_0.vhcl

Is there a way to fix this Issue ?

Thanks !

6
« Last post by TT on August 17, 2018, 09:01:46 PM »
It turns out that the dirt oval in Nascar Heat 2 was the most popular track in online racing.

The road course tracks and especially the roval were also heavily used.

Nascar Heat 3 is going to have improved collision/bump handling (especially for dirt oval racing) so it handle a little more bumping.

They're also going to add a harder AI option.

There will be road courses again plus at least one roval.

It sounds like at least some of the new dirt ovals will be from Dirt to Daytona.

Eldora should also be back from NH2.

There will also be late model dirt modifieds.

Not sure what else.
7
« Last post by Purple44 on August 17, 2018, 07:38:02 PM »
Hello ! We didn't have any news from BugBear, are they cooking for us something awesome in secret ? Or they are still in vacation

I think the Devs are back in the studio. Janne did post over at Steam:
Crash when clicking on settings.
Quote from: jannesBB;1745594817444059916
Should be fixed in the next update, hang tight.
And posted here Monday:
Should be fixed in the next update (for real).

And maybe some Devs are at Quakecon this week? From Discord:
XiYesterday at 9:36 AM
Only reason I'm so curious is because I was just at QuakeCon and Nvidia was there with a Wreckfest booth setup. They were using thrustmaster TS-PC Racer, some sort of pedals and a whole seat and everything handled so smoothly. They were running fast lap contests for 1080Ti's and it was such a wonderful experience. Lol, quite the opposite of my g27 experience.
And next week, some the Devs should be at Gamescon at THQ booth showing of Wreckfest.
And imagine Bugbear still real busy getting the consoles final versions of Wreckfest ready for their Nov 20 release.
And Devs got be working an a new hotfix release for the PC. Bugbear plate still pretty full.
8
« Last post by Purple44 on August 17, 2018, 07:18:27 PM »
Here another video of the mower dancing from Discord:

thatmotorfreakToday at 2:59 AM
Not sure if this was reported before...




9
Hello ! We didn't have any news from BugBear, are they cooking for us something awesome in secret ? Or they are still in vacation
10
« Last post by Purple44 on August 17, 2018, 07:25:19 AM »