Well-Known Member
Team Bugbear Member
I'm starting new thread for my GoKart Raceway Plus mod I'm starting to work on. I got update my GoKart Raceway mod for the new June Build and decided I want to add some extra stuff to mod before I release update.
I got the OK to add some the old tracks that been deleted or changed:
Where the H*** did Tarmac 3 Mixed track go in June Build?
Purple44 said:

Janne Suur-Näkki said:

Mixed layout was scrapped since we need to allocate our resources, as you know the track was in early stages and finalizing it would have required a lot of time and effort.

Thanks for reply Janne. Track was fine the way it is, don't need any more dressing, but I understand. A lot us online don't need the eye candy, just fun track to race on!!

Janne, would it be OK for me to add old Tarmac 1, Tarmac 3 mixed, old Sandpit 1 and the old Gravel 1 track( if I get it working with new Build ) to my Gokart mod? Please.
Janne Suur-Näkki said:

Sure you can add them, no problem

Yes I definitely understand what you mean regarding the track from the visual point of view, but given that we're looking for a broad audience on both PC and consoles just making track playable is not going to cut it, the tracks need to be detailed and visually impressive and that takes time. Even the more polished tracks that we have now will need quite a bit of additional work so you can see how we need to be very selective before committing.
First track I tried to get working is the old Gravel 1 track. The new Gravel track I have grown to like, but the old Gravel track was little more dangerous:
Sorry guys, it seem getting the whole track to load not going to happen.
I found the cutter and object01 crash the old gravel track when loaded in the new Build: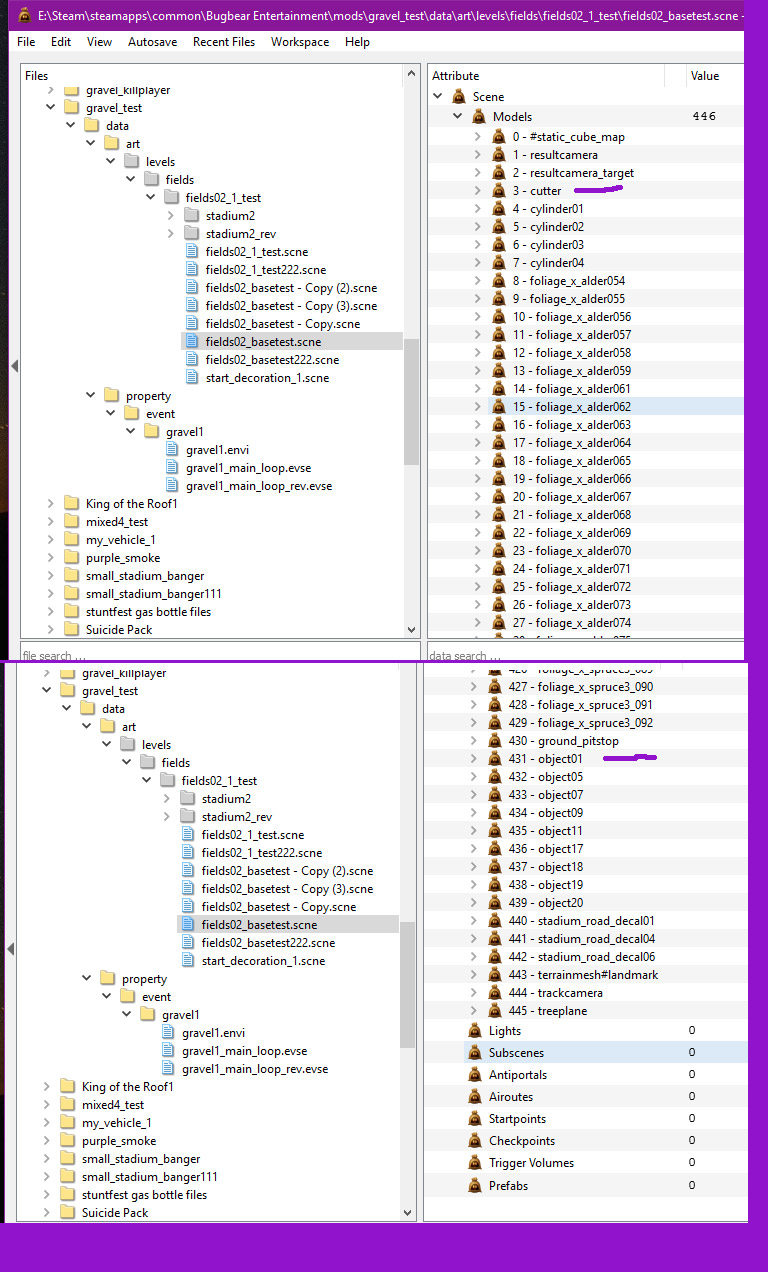 If I delete the cutter and object01 objects ( each object was about 2 MB, deleting these 2 objects took 4 MB out of 12 MB scne file ), I got the base Gravel track to load, but track has big hole in it!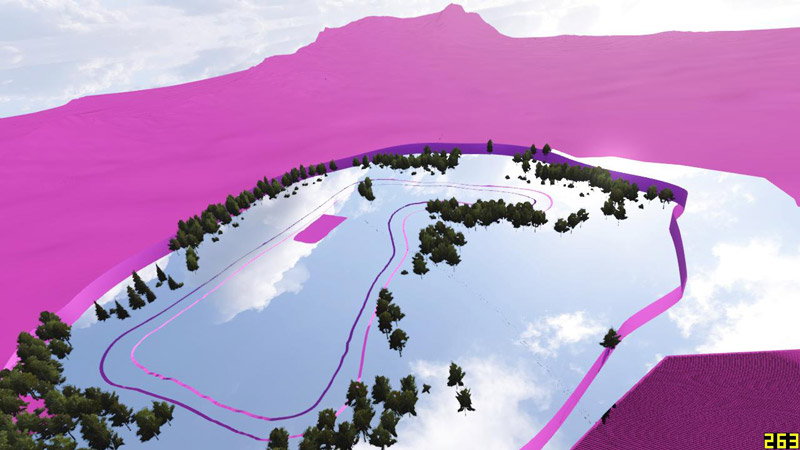 The cars fall through this hole. If there no why to fix these two objects, no old Gravel 1 track.
**********************************************
Here some the other things I want to add:
Purple44 said:

With the Gokart mod, I want to add some extra stuff, like tracks Bugbear has deleted!! And 5 car wide starts, forward and reverse on Mixed 1.

So when I host GoKart mod, I will have some tracks we not use racing on when hosting stock Wreckfest.

I also should make a new Tarmac 3 track. There were a few suggestions in this pic:

St. Jimmy said:

All the Banes and main track are raced in real life.

So a lot of alternate routes are available and then some more.

Bane 3 look interesting.
Got and idea for the new Dirt oval track, Dirt ******** and want add the Speedway Oval suicide track I was working on, but had turn it into a derby arena for Cobs and Robbers since backward alt route did not work for suicide race ( can you find that secret platform ).
Also want add my GRID 1 style fig 8 track to the GoKart mod. Going be awhile before I get back to working on my Fig 8 pack, since after getting GoKart mod ready, then got fix Suicide and Cops And Robbers mod and get them re-uploaded.
And I may doctor up some the other stock tracks and add them to the mod ( beware of what I might do to Crash Canyon! ).
And Zeb maybe adding some extra content to the mod.
Edit:
Crash Canyon Blasting Zone
Edit:
Mix - Nukem and pile ****
Tarmac 1 - fig 8 the dirt road and do a track going over the bridge
Link to my GoKart Plus mod:
https://steamcommunity.com/sharedfiles/filedetails/?id=1117373841
Last edited: