Hey, everyone. It's great to be back after the forum shut down for that hiatus for maintenance. But I'm sorry for being away for so long even after the forums opened back up. I was so caught up with my own personal life. Anyway, I last talked about that problem to make my game run properly, which was discussed here:
http://community.bugbeargames.com/threads/how-can-i-install-mods-for-flatout-1-on-steam.11635/
But then I got more advice through this discussion on Steam, and it proved successful:
https://steamcommunity.com/app/6220/discussions/0/1741103267260435584/
So now my game works properly; all 3 versions of it. 1 being the default game, and the other 2 are modified versions with the car packs from the links in the first forum.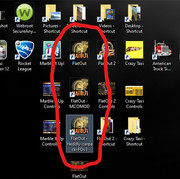 [/url
]
So now to update you all, I liked how most of the cars in the packs looked cool. However, I've grown to not be a big fan of one of them, just because of a couple of things. The 1969 Charger in one of them DOES have a General Lee paintjob, but the couple of things that I disliked about them were how different the paintjob appeared from what I was looking for, and more importantly, the wheels are too big and too wide, which makes the cars more difficult to control, as I found out myself.

[URL='https://postimg.cc/S2Xxc2Kb']]
]
]
]
]
I managed to upload some videos of them into my Google Drive, so you can see them more easily.
https://drive.google.com/file/d/1ZWN5qOH2Ugk8WbOQ52eCxQz-pAg66aua/view
SO currently, I'm still looking for the particular pack(s) that contain the very cars that you see in the 3 videos below.
Last edited: