Well-Known Member
Weeked Smasher
Master Blaster
Introduction
A (sizeable) collection of tracks created for Wreckfest. Features both fictional and real tracks, in all shapes and sizes. From reasonable racing courses to mental skijumps and falling comets - this pack contains something for everyone. The pack has been worked on for about 3 years now, but I intend to continue developing this mod and my skills further, to deliver new experiences and revitalized the first creations.
Want to support me and my work?

<-- clickable
As with all your kind words, support, feedback, critism (good and bad), as well as ideas - thank you! Your interest in this project is the greatest reward in it self, but as an student with limited resources - extra support allways helps.
Supporters are also added to the support list (if you want to change name or not be visible, let me know and I'll sort it out).
The tracks
The tracks are divided into cathegories, based on their shape and purpose. Clicking one of these brings you to all the tracks given this category. The complete tracklist can be seen below the picture.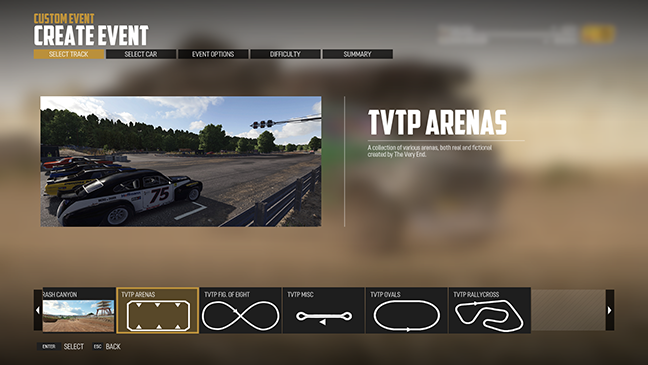 Kristiansand Raceway
Crash Alley
Simstox Showdown - Request and model from Stuard Cowi (and mostly the credits)
Arendal Triangle
Dune Race
Elevated Eight
Birkeland
Bugbear Island
Arena Essex
Emmen Raceway
Michigan Speedway
Bristol Motor Speedway
Woodhill Raceway
Hillside Raceway
Rugland Motorbane
Greenlake Valley
Wimbledon Greyhound Stadium
Wimbledon Greyhound Stadium Derby
Pit Race - A track inspired by a track with same name from the legendary game Carmageddon (1997)
Ringwood - Track original created by Stuart Cowi, ported and updated by me (The Very End)
Eagles Nest
Chalk Canyon 2017
Hurtfull Five
Talledega Superspeedway
King's Lynn Raceway
Bridge To Nowhere
Red Pike Arena 2017
Red Pike Race 2017
Lupines Hill (Lydden Hill)
Nevada Freight Depot - Range of layouts, check them out!
Rock Bottom Derby
Rock Bottom Race
The Slow, the Fast and the Stupid (SFS)
Pine Hills Raceway
Black Sails Valley
Aremark Motorbane
Redwood Ring Oval
Redwood Ring Rallycross
Derby Banked Eight
Orange Speedway (1957 layout)
Sca Ultimate Raceway / Sca Fig. Eight
Dune Race - various layouts
Dakar s01, s02, s03, s04, S05
Lakewood Oval
Farmlands S1, S2, S3, S4, S5, S6
Pennsboro Speedway
Howling Wolfs Raceway
Brønnøy
Caprio County Raceway
Pocono Raceway (14 layouts in total)
Ballistic
Lyngås (6 layouts in total)
Corrosion
Grenland (6 layouts in total)
Gardmoen Drag and Green Racing Park Gardermoen (14 layouts in total)
Knobhill (8 layouts in total)
Harbor (3 layouts in total)
Credits
* Stuart Cowi (Madcowi Productions) for Lydden Hill and Simstox trackmodells, certain assets, models and tips, thank you!
* Sam Gibson for the great texture help on King's Lynn Raceway. Always appreciated!
* STRmods for digging up and fixing old BB assets (foliage) which is used in the snow tracks.
* Harmalarm for the DD2 track models, with I have used as base to further develop on into Wreckfest.
Supporters
The following people has been kind enough and supported me through Paypal donations. A special thanks to the following:
* Brett D.
* Lilian C.
* Benjamin F
* Bruno P.
* Daniel H.
* TheSpacebarRider
* Nicholas C.
* Peter L. (2 donations!)
* EJsNRocket (2 donations!)
* Anreas B. (4 donations! What a champ)
* Dean G.
* SRV
* GittyRivers
* David C.
* Eric J.
Download: http://steamcommunity.com/sharedfiles/filedetails/?id=764432700
Last edited: